Free Krispy Kreme doughnut on National Doughnut Day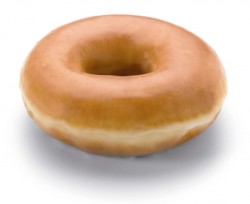 Friday June 3rd, 2011 is National Doughnut Day and like every year, you can get a free Krispy Kreme doughnut! At participating locations of course.
This is direct from the Krispy Kreme press release:
"National Doughnut Day was established in 1938 by The Salvation Army to raise funds to help people in need. In honor of the 73-year-old holiday, Krispy Kreme is once again giving each guest who visits a participating U.S. Krispy Kreme shop on June 3 one FREE doughnut of any variety. No purchase is necessary to redeem the offer."
Find a Krispy Kreme location in Orange County or near you here.
For more Orange County deals, especially the Great ones. 😉 Follow us on Facebook, Twitter or by Email.