Free Long Beach Grand Prix Tickets 2011
FREE FRIDAY VOUCHER OFFER HAS EXPIRED
See the current Long Beach Grand Prix Free ticket offer here.
Once again
TamiyaUSA
is offering free Friday tickets to the 2011 Long Beach Grand Prix.
Voucher is good only for Friday, April 15, 2011 admission that includes practice and qualifying activities. My wife and I went last year and had so much fun. I knew TamiyaUSA was having this offer again this year, so last year I bookmarked their page, sure enough today (Thursday March 17, as I write this), they put it up!
The ticket is for Friday, for the qualifying races, which are an awesome site to see as the race cars zoom by VERY loudly. Plus they have a Lifestyle Expo, with lots to see and do with the family. If you've never been to the Grand Prix, this is a good opportunity to do it for free!
Ticket booths open at 7 a.m. Activities start at 7:15 a.m. until 7 p.m.
Click on the image below to get your free 2011 Toyota Long Beach Grand Prix ticket voucher. The image below is NOT the voucher. You will be taken to the TamiyaUSA website to get the voucher. Have fun!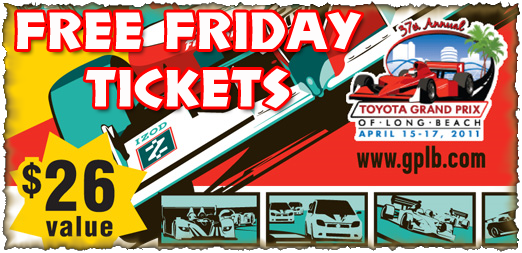 If you're taking kids, earplugs are recommended, although it's not always this loud. Indoors and around the interior of the expo, noise levels are normal. Some areas a louder than others, but only for a short while. Expect to do lots of walking!