FREE Golden Treasure Shrimp at Panda Express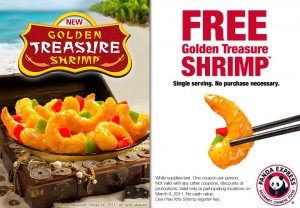 Get a FREE Golden Treasure Shrimp entree from Panda Express this coming Wednesday March 9th, 2011.
Live I've mentioned before, I love Panda Express and always looking for deals from this restaurant. In order to get this free entree you must print the coupon on the right. Click on the image. One coupon per person. Not Valid with any other coupons, discounts or promotions. Only valid at participating locations on March 9th, 2011.
Find a Panda Express near you here.
And perhaps after Panda you can head over to Farrells on that same day and get a free Sundae!