Reserve your free Spicy Chicken Sandwich at Chick-fil-A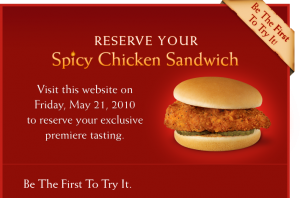 Update: Seems like Chick-fil-A has changed the dates and around. It starts today!
We have a Chick-fil-A nearby, so I'm always on the lookout for deals at this restaurant. Here is a great one for a free Spicy Chicken Sandwich, but you must reserve it! Chick-fil-A is premiering this new menu item and are reserving a few free sandwiches, you can reserve yours on Friday, May 21th by visiting  this website.
So be sure to mark your calendar, or simply bookmark our site and I'll remind you! 😉