Free Subway Breakfast Muffin Melt tomorrow morning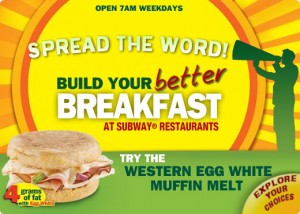 Tomorrow morning, Tuesday April 26th, Subway restaurants in Southern California will be giving away a free breakfast muffin melt at its participating locations, between 7 a.m. and 11 a.m.
You've probably seen the commercials for their new Western Egg White Muffin Melt. If you haven't, you can watch it here. Looks very tasty, so it seems I'll be setting my alarm early tomorrow morning!
I suspect most Southern California Subways will be participating in this promotion, but you may want to call ahead to be sure. You can find a subway near you here.