Free EMC Concert Event in Santa Ana's Art District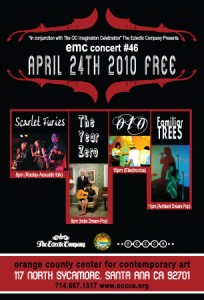 Saturday April 24, the Orange County Center for Contemporary Art and The Eclectic Music Company will present a free concert! The doors open at 7pm and the performance will start at 8pm.
I've never attended an event at this location, but I've wanted to go for some time. This area has revitalized itself with local artists, that its become an area to go for anything creative, art, music and more. If I don't make it this time, I'm sure to go in the near future.
From their press release:
The Santa Ana based Eclectic Company is an artist run vehicle, designed to support, produce and showcase independent music, art and all media events.
The Orange County Center For Contemporary Art is an art gallery / art center and performance space located at 117 North Sycamore Santa Ana, Calif. 92701,  (714) 667.1517
Bands scheduled to perform:
Familiar Trees
Oto
Year Zero
Scarlet Furies
Saturday April 24th, 8pm, FREE
Orange County Center for Contemporary Art
117 North Sycamore
Santa Ana, CA USA 92701 (714) 667.1517 occca.org