Free snacks this week at Chick-fil-A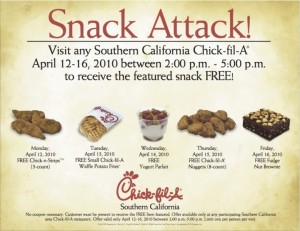 Chick-fil-A is currently having a promotion offering a free snack between 2pm-5pm each day of this week. Offer starts today April 12 and ends on Friday April 16. No purchase necessary and only available at Southern California restaurants.
Find a Chick-fil-A near you here.
Click on the image to see a picture of the free snacks.
Here's the list of free snacks:
– Monday, April 12: 3-piece Chick-n-strips
– Tuesday, April 13: Small waffle potato fries
– Wednesday, April 14: Yogurt parfait
– Thursday, April 15: 8 chicken nuggets
– Friday, April 16: Fudge nut brownie