Free rides at the OC Great Park Balloon in Irvine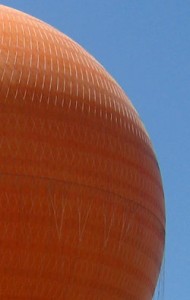 Welcome to my very first official post on this site, I won't get into who I am, you can read that on my "about"  page. Instead, I'm going to begin with an event in Orange County that I believe is a Great Deal because its FREE!  With Spring starting last week, its time again for everyone to enjoy a little fun in the sun!
My first pick is the Big Red Balloon ride at the Orange County Great Park in Irvine.  Its been around for about 2 yrs, but most people are still unaware that the rides are free! Earlier today before writing about it, I called the OC Great Park Visitor Center to verify that it's still free, and it is!  According to my conversation with them, they have funding to provide free rides but it may end sometime this summer.
The balloon holds 25-30 people at a time and is tethered to the ground by a steel cable. The views are beautiful, especially on a clear day or night! Perfect for that special date and the only thing you'll pay for is the gas to get there. Have fun!
Check out their website for more info: Great Park Balloon